Luxury Dog Collars
The RSPCA advises that in the UK, the Control of Dogs Order 1992 states that any dog in a public place must wear a collar with the name and address (including postcode) of the owner engraved or written on it or engraved on a tag. Your telephone number is optional (but we would recommend this).
For dog owners the comment on telephone numbers is the important information so that in the event of a dog straying and being intercepted by a well-intentioned member of the public contact can be made immediately, which would not be the case with a microchip nor a corroded and unreadable tag (which anyway is all to liable to be missing).
An embroidered dog collar however will last for years and still be readable and can be embroidered as required although space limitations would allow only a shortened form of the legal requirements, e.g. Smith 10 Acacia Ave AA30 1AA, or, of course, if some anonymity is required, just a mobile number (given how common dog theft has become).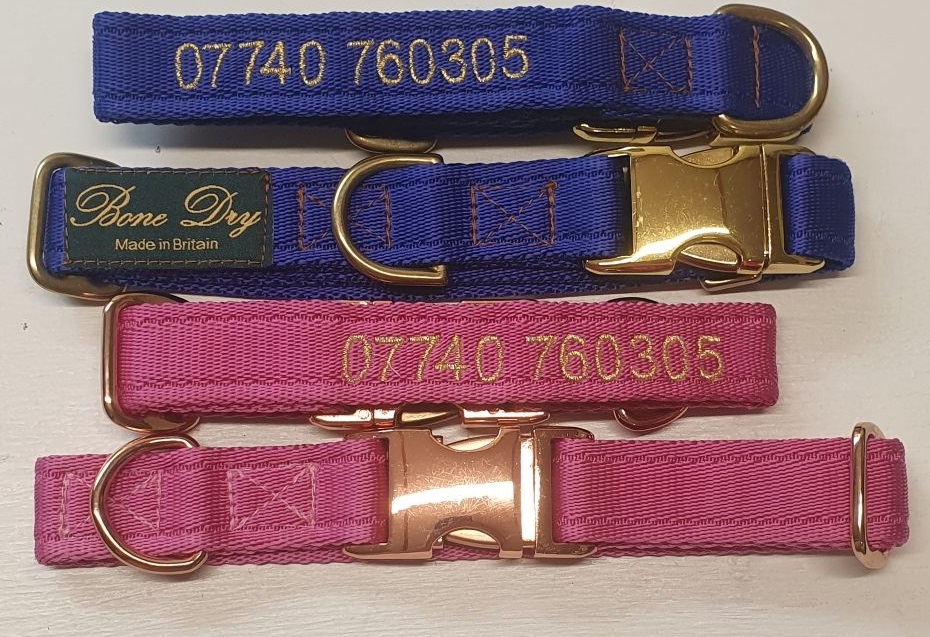 Our luxury range of dog collars and leads comes in the same soft, strong cushion webbing but in either Shocking Pink with all fittings in beautiful rose gold plated steel fittings or in Royal Blue with bold brass fitting.